Make Your Own Chicago Style Deep-Dish Pizza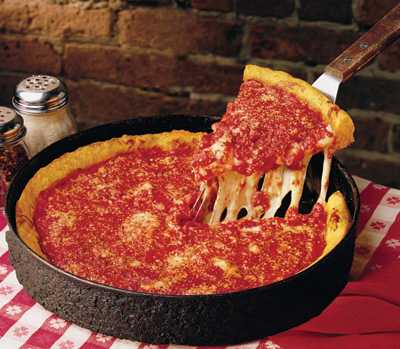 Let's face it, when it comes to pizza, the crust is just a vessel for the toppings. We don't chew wildly just to get to baked dough. We dive in after the cheese and pepperoni and mushrooms and other traditional pizza fixings. It was undoubtedly that truth that led to the creation of the original deep-dish pizza. It may have been invented by friends and co-restaurateurs Ric Riccardo and Ike Sewell of Pizzeria Uno in 1943, or it may have been the brainchild of the restaurant's chef, Rudy Malnati. Either way, deep-dish pizza is undeniably a Chicago tradition, but you can make it yourself, too.
Deep-dish field research
Before you try making your own deep-dish pizza recipe at home, you should study up on the classics. That means making a trip to Chicago, and tasting deep-dish in its native land. You won't have to go far to get a well-rounded lesson in the city's deep-dish history. The home of that first deep-dish pie, Pizzeria Uno, is at 29 E. Ohio St., due west of Navy Pier. A half mile away at 439 N. Wells St., you can enjoy a traditional pie at Lou Malnati's Pizzeria, which is owned by the son of possible deep-dish inventor Rudy Malnati.
Making it at home
Once you've sampled Chicago's best, you'll know what your end goal should be as you try your luck at making homemade Chicago-style deep-dish pizza. Before you start looking for the ingredients in your cabinets, though, don't forget to stop in at the store for a deep-dish pizza pan, because you can't just throw this pizza on a stone.
Start your crust at least two hours before you want to eat.
Homemade deep-dish crust ingredients:
1 teaspoon sugar
1/2 packet active yeast
1-1/4 cups warm water
1/4 cup coarse flour, such as cornmeal or semolina
2 cups all-purpose flour, plus flour for kneading
3/4 teaspoon sea salt
1/4 cup olive oil, plus oil to coat bowl and pan
Mozzarella and your favorite pizza toppings
Directions:
1.     In a large bowl, add yeast and sugar to the warm water and stir until the granules begin to dissolve. Let the mixture sit until it foams.
2.     Add coarse flour, 1 cup all-purpose flour, sea salt and olive oil to yeast mixture. Stir until the mixture is one consistency.
3.     Add the remainder of flour a tablespoon at a time, stirring continuously, until the flour is fully stirred in.
4.     Lightly flour a countertop and knead the dough 3 to 4 minutes. Return the dough to the bowl, pour a small amount of oil over it and turn the dough ball to coat the exterior. Cover the bowl with plastic wrap or a towel and set in a warm spot in your kitchen for roughly an hour and a half.
5.     Preheat the oven to 450 degrees.
6.     Once the dough rises to double its size, press it into the deep-dish pan, trying to keep an even thickness throughout.
7.     Fill the deep-dish crust with all the toppings you like. Load it up. That's the point! Cover with mozzarella.
8.     Bake for 30 to 40 minutes, or until the crust turns gold and the cheese browns.
9.     Dig-in!
When you get comfortable with the texture of the deep-dish crust, experiment with the recipe. Try rye flour or ground oats in the place of cornmeal or semolina to get a new crust flavor, or try a veggie pizza with Swiss instead of mozzarella. As long as the crust cooks properly, there is no right or wrong way to do deep-dish.